Cleopatra Slot Review 2020

If you are a fan of Egyptian mythology, then you should be ready to take the queen for a spin with the online Cleopatra slot machine. This slot is one of the most exciting Egyptian-themed game you'll find out there.It comes with several iconic symbols and bonus features that will help players win some big prizes. For example, you can triple your wins with the free spins bonus feature. The Double Wild Reel is another bonus feature. After getting this icon, you are to spin an entire reel of Wild symbols.The renowned software developer – International Gaming Technology (IGT) created the Cleopatra slot game. IGT is famous for designing online slot games that slot players worldwide find rewarding. Asides from Cleopatra, IGT boasts an impressive line of incredible games, including Wheel of Fortune, Megabuck, Da Vinci Diamonds, and more. Read our Cleopatra slot review to discover all the benefits of the slot.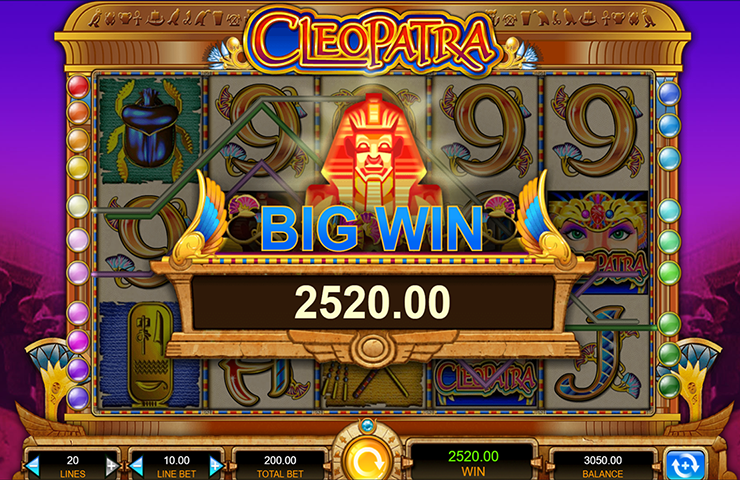 How to Play Cleopatra Slot?
Playing the Cleopatra slot, either for free or for real money, is relatively straightforward. IGT made the gaming interface and entire gameplay exciting and interactive. The online Cleopatra slot machine comes with 20 paylines. One of the most exciting aspects is that you don't have to choose the number of active paylines.The entire 20 paylines on the Cleopatra online slot are active for every spin you wish to play. However, IGT puts you in control when it comes to choosing your wager. The amount you want to stake entirely depends on you. There is a Line Bet box at the bottom of the screen, which allows you to choose your bet on the slot machine.Before you play Cleopatra slot game by IGT, you can use the '-' and '+' symbols in the box to either reduce or increase your stake, respectively. Whatever number you choose gets multiplied by 20 to ensure that it accounts for the entire 20 paylines. It doesn't get easier than that.Once you're done choosing your stake, there is the option of manual and automatic spins. The yellow 'spin' button at the center of the screen helps to initiate the manual spin. On the other hand, the blue 'autoplay' button close to the control panel allows you to start the automatic spin.Click at the autoplay button opens a new dialogue box where you'll need to set your spin options. Regardless of the type of spin you decide to opt for, you need to watch how the wheel spins. The winning combination you land on the reels will determine how massive your payouts will potentially be.
Gameplay
The Cleopatra online slot is a standard video slot with five reels and three rows, and it is a fascinating game to play. Players familiar with other ancient Egyptian slots will know that this slot has a lot to offer. Cleopatra was the only female Pharaoh in Egypt, so you must be ready to take the queen on an adventure. That way, you not only have fun, but you also have the chance of winning great prizes.The game's framework is a depiction of a golden Egyptian temple. At the top of this temple, you'll find several Egyptian symbols. Some of them include the Horus' eye, the Cartouche, and Scarab Beetle. The named symbols are among the higher-value symbols in this slot game.Another important symbol that is of importance to you is the Sphinx, which acts as the Scatter symbol in this slot game. The Scatter symbol is crucial in triggering the free spins bonus features. Hitting a combo of three or more scatters on the reels will trigger 15 free spins where you can triple all your wins.We love one great feature that you can retrigger another 15 free spins during an ongoing round. We're sure you love that too. Another bonus feature that will help you win impressive prizes is the Double Wild Reel. As the name may already suggest, this feature gets triggered when you have an entire reel of Wild symbols.The Return to Player (RTP) percentage of the Cleopatra free online slot is another feature that draws players' attention to the game. It has an RTP of 95.02%, ensuring a steady stream of returns from the game. Free Cleopatra slot machine online also has a wide betting range and a medium variance. This makes it a balanced option for any slot player.The minimum bet of 0.20 coins is for low-stake players, and the maximum bet of up to 600 coins gives room for high-rollers. You can also win up to 10,000x your stake on the Cleopatra casino game if you're able to hit a winning combination of five Wild symbols. If one or more Wilds are substituting in your winning combo, then your win will be doubled. There's everything to love in this exciting game.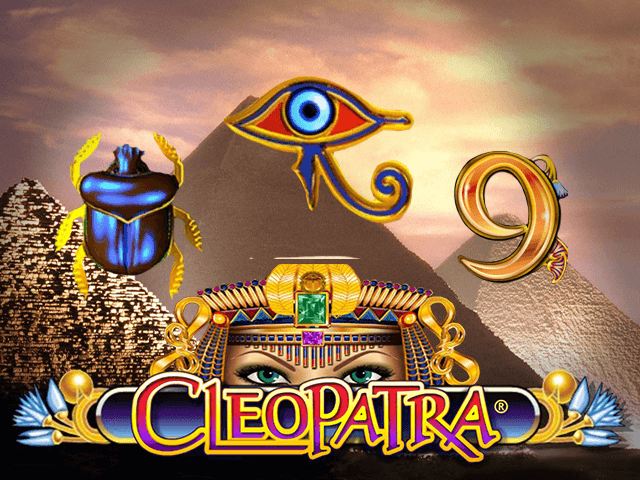 Real Money Game
Like any slot game, beginners shouldn't play Cleopatra by IGT for real money when they start playing. That way, you might end up losing most of your money. Winning is not assured in any slot machine because they work with random numbers.However, there are some strategies that players use to boost their chances of winning. These strategies will come in handy for you as well.Play the free Cleopatra slot machine online. It is recommended that you play the Cleopatra slot online for free. It would be best to get yourself familiar with the game's features with the demo version of the game. Many reputable online casino operators out there offer the free online Cleopatra slot machine. You will learn the game's features, payouts and gameplay without the risk of losing money.
Start small and work your way up. You'll find many players advising you to go all-in from your first bet. However, we find it more rewarding to start with small stakes, which will help you learn the game's payout. You can go ahead to increase your bets once you're confident.
Take advantage of the bonus features. The free spins feature and Double Wild Reel are great ways of winning massive prizes on the Cleopatra slot machine. You must always look forward to these features and take good advantage of them when they come.
Have a bankroll strategy. Always do everything to keep your bankroll intact. Do not bet too much and incur more losses than wins. With this, you will be able to play for more extended periods.
Mobile Experience
The Cleopatra online slot is fully compatible with mobile devices. IGT designed this slot game to come with impressive designs and attractive graphics, all of which remain intact in the mobile game. You will enjoy all the fantastic features of the game on an extensive range of mobile devices. Its compatibility with mobile devices makes it even more convenient to play on the go. You can quickly master the features using touchscreens on mobile devices.
Compatibility with iOS
You can find the online Cleopatra slot machine on various casinos using iPhones or iPad. You can also download the dedicated casino app on the Apple Store. Regardless of your choice, you'll enjoy the gameplay.
Compatibility with Windows. IGT optimized the slot machine Cleopatra to work perfectly with the Windows operating system. You can choose to play on the older version of Windows or the newest versions. They all come with the base game options.
Compatibility with Android smartphones. You can also play Cleopatra slot game on your Android devices. It makes it easy to play this game on the phone. The online casino apps are also available for download on Play Store.
Compatibility with tablets. The Cleopatra online slot machine is also compatible with tablet devices. It offers a larger screenplay than smartphones, and its touch screen makes it easy to play.
Pros and Cons
| Pros | Cons |
| --- | --- |
| Free bonus rounds for better prizes | Graphics are not well detailed |
| Consistent double and triple multipliers | – |
Verdict
The Cleopatra slot by IGT is a perfect mix of old and exciting gameplay. It is an easy slot to master with plenty of bonus features that will help you win some significant cash. It's RTP of 95.02% makes it one of IGT's game with high winning opportunities. Cleopatra is a great slot to try for both new and veteran slot players.
FAQ
Is it safe to play Cleopatra?Yes, it is safe to play the Cleopatra slot machine. IGT is a reputable slot dealer with a decent run of payouts.
How to play Cleopatra slot game?Playing Cleopatra is straightforward. You only need to set your stake and press the spin button to play. The autoplay button also allows for automatic spins.
Does Cleopatra slots have high volatility?No, Cleopatra has medium volatility, which allows for steady returns.
What is the minimum deposit amount in Cleopatra slot game?The minimum deposit amount varies for different online casinos. You'll have to check your casino to be sure.
Can I play Cleopatra slots if I am not from Canada?Yes, the Cleopatra slot  is available for players worldwide.