Gladiator Slot
As the gambling industry is flourishing, slot games have become so popular because of their unique theme and high payout system. The best part about these slot games is that you can play at your convenience; you don't have to download any software or install any plugin. There are plenty of free slots as well, where you can play games for free.
Bonus rewards at slot games are pretty impressive as they give you more opportunities to win. Welcome bonus, no deposit bonus, and free spins are the typical bonuses that you can avail of on slot machines.
Gladiator slot machine is a popular and favourite slot platform powered by Playtech. This Gladiator slot game is based on the movie Gladiator so that you can witness some movie-based graphics. If you want to learn more about this unique slot machine, check out the Gladiator slot review that will give you a better idea regarding this platform.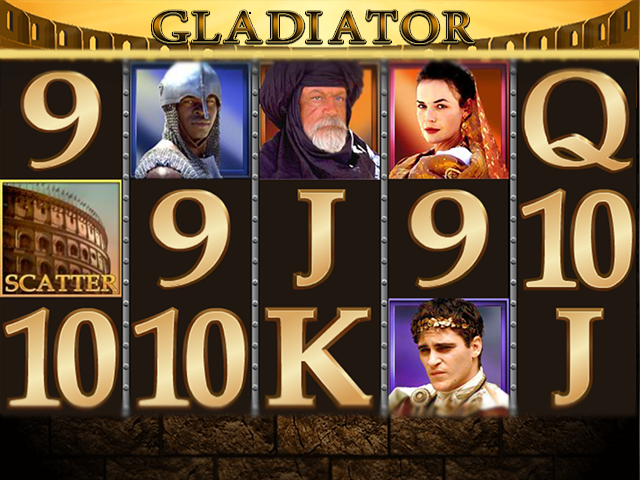 How to Play Gladiator?
With five reels, three rows, 25 pay lines, and two amazing bonus features, the online Gladiator slot machine is the best place to win. The addition of the jackpot further creates excitement among the players.
To understand the gameplay, you must be familiar with names like Commodus and Lucilla. These are the most lucrative symbols. There will be symbols A, K, Q, J,10, and 9 on the reels alongside these animated characters.
First, you need to choose the pay lines you are looking to cover and adjust your total line bet accordingly. Make sure to check your total bet before hitting the spin button.
You can place bets that range from $0.25 to $25. The Gladiator free online slot has an average RTP of 91.5% that clarifies the credibility of high payout games on the platform.
How to Win on a Gladiator Slot Machine?
Every player starts playing on a slot machine Gladiator to win and bag maximum rewards. To win the Gladiator online slot, you need to collect all nine golden helmets and trigger the progressive jackpot.
While there is no guarantee for your victory, slot games involve luck. However, you can make use of the free spins and keep trying.
To increase your winning chances, it is best to cover all your pay lines until you can afford it. In case you fail to do so, you might miss out on the significant payouts.
Additionally, bonus rounds can prove to be a great help to get you closer to the win. When you play the Gladiator slot game, a couple may or may not appear during the game, but it can bring a lot of luck when it does.
What About the RTP and Volatility at Gladiator Slot?
If you want to know the right way to win the slot games here, it is essential to understand the average RTP and volatility. Free online Gladiator slot machine has an RTP of 91% with medium to high volatility. With the presence of a progressive jackpot slot, the platform becomes more palatable and worth every risk.
What Is the Bonus Attraction of a Gladiator Slot?
The review will be incomplete without mentioning the fantastic bonus features which the platform is famous for. There are two major bonus features on the Gladiator casino game: the Gladiator Bonus and Coliseum Bonus.
The players mostly prefer the Gladiator Bonus. This bonus is triggered when you collect nine helmets on the reels. You just have to pick nine gold helmets and take home the jackpot.
Coliseum Bonus is much more simplified than the Gladiator Bonus. There are free spin rounds along with the picking element. Players can choose different stones that will determine the free games you will get.
What About the Viewing Experience at Gladiator Slot?
As mentioned earlier, it is a slot platform based on the movie Gladiator, and you can expect some movie elements in the form of symbols. As you enter the slot, you can witness an Egyptian theme just in the movie gladiator. There are reels based on the characters that further hike up the excitement level.
The easy-to-use interface further makes it easier for players to engage in the game. With the availability of bonus features and freebies, you can always make the most of the platform.
There is also mobile gaming available for the players to enjoy a free Gladiator slot machine online. The intuitive mobile version is trendy for its smoothness and convenience.
The high-definition graphics are another major takeaway of this platform that you cannot ignore. You can play the Gladiator slot online for free in outstanding picture clarity and intuitiveness.
Users who have already got the taste of Gladiator online slot have given positive reviews about its fantastic gameplay and presentation. It is one of a kind gaming experience that you will hardly find anywhere else.
What About Mobile Gaming at Gladiator?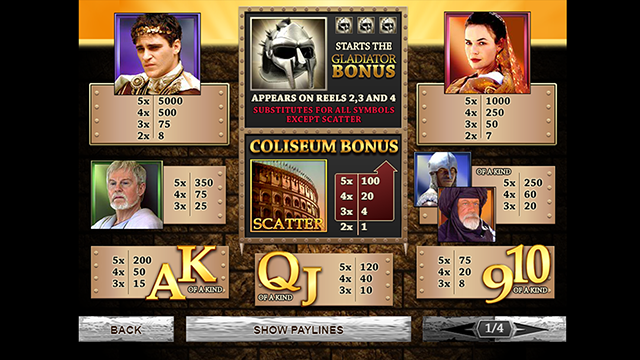 Today, almost every slot platform has been providing mobile gaming for players who love to enjoy their games on the go. Gladiator online slot has been offering mobile gaming via a mobile web browser.
You don't have to download any software or install a plugin. Simply open your web browser and visit the site to get started. The mobile version of the slot is super comfortable to play with. No more sitting at your desktop for hours. Make use of your leisure time by playing on the Gladiator slot machine.
Mobile gaming was found back in 2012, and since then, players have been enjoying cutting edge animation and sounds on their small screens.
The mobile version is compatible with all iOS, Android, and Windows devices:
iOS Mobile Slot: Make your gameplay even more smooth with the iOS mobile version of this slot.
Android Mobile Slot: Those who own Android smartphones and tablets can play on their mobile web browser and enjoy the freedom.
Windows Mobile Slot: Even Windows devices are highly compatible with the game. Simply open the website on your web browser.
Pros and Cons
Before choosing any gambling site, it is important to compare its pros and cons and then make a decision. Here are a few pros and cons of the Gladiator online slot.
Pros
Cons
Movie-based theme
Delay in triggering freebies
Exceptional graphics

Unexpected progressive jackpots

Generic playing cards
Amazing bonus features
Wide range of games
Verdict
This Playtech platform has got everything that you might be looking for in a slot machine. Creating the famous movie Gladiator's ambiance, this slot machine will provide you with a kind gambling experience. It is a 25 pay lines slot having five reels that will offer you fantastic gameplay. The two significant bonus features will undoubtedly capture your attention. Gladiator Jackpot and Coliseum Bonus are pretty exciting and action-packed. It is highly recommended to play Gladiator by Playtech if you want to experience something unique and advantageous.
Frequently Asked Questions
Is it safe to play Gladiator?
Yes, it is a completely legit platform powered by Playtech, so you never have to worry about its integrity.
Does Gladiator have high volatility?
The slot platform balances medium to high volatility that helps players enjoy the games more efficiently.
What is the minimum deposit amount in Gladiator?
The minimum bet you must make to start playing is $25.
Can I play Gladiator if I am not from Canada?
Yes, you can play the game even if you are not from Canada as it is a slot machine that is legal in many countries.
How to play Gladiator?
You just have to choose the pay lines you would like to cover and fine-tune your entire bet line accordingly. Before you spin the wheel, make sure to check the total bet.