Hot Shot Slot
In case you have never had a feel of a traditional casino game house, Novomatic software provider offers you a chance to teleport back in time and catch a glimpse on Hot Shot free online slot. This slot machine is set in an MVP casino room with standing table machines, having bubbly red lights with three reels and three rows.
Apart from its adorable look, the Hot Shot slot machine is developed with special features such as "Hold Reel, gamble feature, scatter wins, and a super metered top slot machine that promises jackpot wins up to 200x a player's wager.
Novomatic is an expert casino software provider that has been in business for over four decades (Founded in 1980). The company garnered considerable loyalty from punters through top-quality casino games.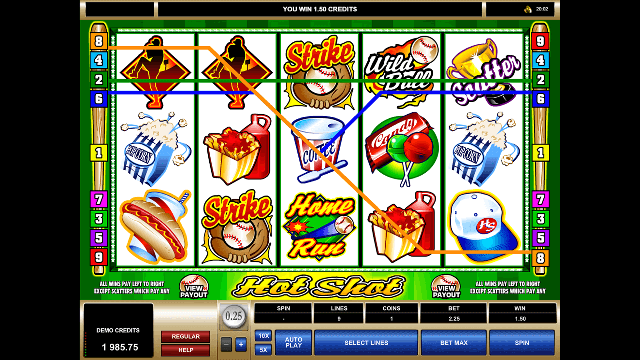 Learning the Old School Ways: How to Play Hot Shot Slot?
Now let's take a look at how to play this captivating classic slot machine Hot Shot. The gameplay might present a little bit of challenge to you if this is your first time trying on a traditional 3×3 reeled slot machine. However, with 10 to 50 shots, you should perfectly know how it works. This is why we recommend you to play Hot Shot Slot online for free here or on other casinos that offer the demo.
So, this step by step instruction in our Hot Shot slot review below gives you the right details on how to play the game. Let's go:
Step 1: Find your casino games plug. In other words, find a reliable, safe, and certified online casino that offers an online Hot Shot slot machine. Feel free to play here or in other trusted casinos in your country.
Step 2: Click "Play for real money" or "Play for free" depending on your intentions and wait a little bit as the game loads.
Step 3: Now, you face a discrete casino room with a standing slot machine with two segments. A base game and a "super meter" game at the top opens you the way to bigger wins.
Step 4: The next step is to know your gameplay buttons. You see the "Autoplay, Start, Info, Hold A, Hold B, and Hold C, Cancel, Gamble, Select Game, Collect Wins, Super Meter Coins, Magnifier, Volume Switch, and Coin Selectors + and – . Some of these buttons are only at the top game, while others are only down. Let's take a look at their functions below.
Press the Start Button: Gameplay
Base Game's Buttons
Coins Selector: Use the "+ and –" buttons to adjust the value of your coins from 0.01 to 2.00.
Start: Press 'start' to spin lower reels.
Hold A, B, C: This free Hot Shot slot machine online allows you to hold at most two reels out of 3 for one round. The lower game has one payline, so imagine you have 2 of a kind trapped using holds on two reels. You only need to hope the remaining reel you spin reveals a symbol that adds to the winning combination.
Cancel: If you change your mind about holding the reels, click 'cancel' to return the game to normal.
Gamble: After every win you make, the option of gambling is for double pops. However, you may lose all your wins if your guess fails.
Top Game's Buttons
Collect Wins: Use this to collect all funds in your super meter coins balance.
Select Game: Once you have enough cash in your super meter coins (at least 20 coins), you can select the top game and spin for "Hot Stakes 5, 10 or 20". We will discuss this in the bonus section.
Super Meter Coins: This is where earnings from your top wins are gathered. It is also the online balance from which you can bet on the Top Game.
General Buttons
Autostart: Use this to place your game in a non-stop mode until you press "Stop," of course. Be sure you are playing with your regular wager, so you don't automatically stake too high.
Info: Click this to see a general overview of all the free online Hot Shot slot machine entails. You see the special features, game rules, how to use buttons, etc.
Volume: You may not like the retro sound, so use the volume key at your right top corner to switch it off or switch on.
Features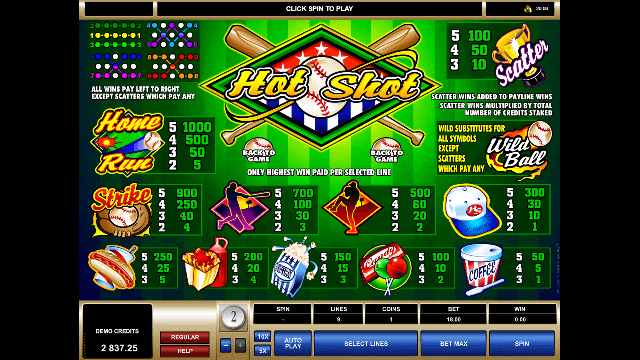 Now when you know how to play Hot Shot slot game online, let us look at some special effects.
Hold Feature: We have already hinted above how the "Hold" button can be helpful. It gives you that chance to hold two high-paying icons already on a payline in place, so you can spin one more time in the hope of completing the combination.
Star Wild: The star symbol is a wildcard. It offers you wins and assists other icons in completing their winning combinations.
Hot Shot Feature: This feature only plays on the top game reels. There are three categories you can pick from : Hot Shot I – stake 5 (Yellow), Hot Shot II stake 10 (Orange), and Hot Shot III (Red). The payline here in the top game adjusts to become Criss-Cross in the pattern, offering you better chances of winning. Also, note that in these particular games, symbols increase in value; for example, in Red Hot Stake III, the lucky sevens win you 200 coins for 3 of a kind, whereas it only awards 60 coins for the same combination as the base game.
Gamble Feature: Use the 'Gamble Feature' that activates after every win. Note that you lose all earnings if your gambling fails.
Base Game's Paytable
| | | |
| --- | --- | --- |
| Symbols | 2 of a kind | 3 of a kind |
| Stars | 100 | 200 |
| Crowns | 100 | 200 |
| Bells | 16 | 100 |
| Lucky 7s and Water Melons | 8 | 60 |
| Grapes | 4 | 40 |
| Peaches | 4 | 20 |
| Pears and Oranges | 4 | 8 |
| Lemons and Cherries | 2 | 4 |
Real Money Game
Playing Hot Shot online slot for real money requires taking risks, in other words, making deposits and betting from your casino real money wallet. So, in case you are in for this, click to "Play for real money," and as a dealer, visit the cashier section and pick a payment method that your country or the casino you are using allows. These methods could be MasterCard, BTC, Litecoin, VISA, Skrill, Neteller, etc.
After, you can pick your preferred wager from a minimum of 0.01 to a max bet of 2.00 coins per spin. Once your bet is set, go ahead by hitting the "Start" button, and you are good to go for one round. Note that Hot Shot casino game has medium volatility, and its RTP is around 95.87%.
Mobile Experience
Hot Shot slot game's mobile optimization is top-notch. We tested the graphics and gameplay on Tablets, Androids, and iPhones, and it ran smoothly in our mobile browser. As long as your phone supports Adobe Flash Player and your internet is stable, Hot Shot will run smoothly. Know that you don't need an app or APK to play on your desktop or mobile devices. You can always use your browser.
Pros and Cons
| | |
| --- | --- |
| Pros | Cons |
| Top Quality Classic Slot Machine | No Free Spins |
| Wildcard and Super Meter Jackpots | Clumsy View |
Verdict
We recommend you play Hot Shot by Novomatic if you need some introduction to the traditional slot machine style of gaming. This game comes with a super meter (Top game) where symbols gain more value in 3 different categories, "Hold" buttons to save winning line combinations and wildcards to fill in winning gaps. Overall, Hot Shot is fun to play.
FAQs
This game is 100% secure, but make sure you play it on a trusted online casino.
How Volatile is Hot Shot?
The volatility rate is within the medium/high variance.
What is the Least Bet I can Make on Hot Shot?
The minimum bet you can place on Hot Shot is $0.01 per spin. Max is $2.00.
I am in Canada. Can I Play Hot Shot Too?
Yes, Canadians are welcome to play Hot Shot on top online casinos in Canada.
Our advice is to test the game in its demo mode. This gives you a general idea of how it works practically